---
EQAR NEWSLETTER - JUNE 2019
News: DEQAR Webinar | Annual Report 2018 | Call For Proposals | Download DEQAR Data | Analysis on QA Activities | Bologna Thematic Peer Group on QA | Call For Tender
---
EUA Webinar on DEQAR: Plugging the information gap – facilitating recognition through access to external quality assurance results
The European University Association (EUA), project partner in the DEQAR project, is hosting a webinar dedicated to using DEQAR (Database of Database of External Quality Assurance Results).

Participants of the webinar will gain an insight into the rationale and uses of DEQAR, and hear from representatives of a national recognition information centre (ENIC-NARIC) and a higher education institution about how the availability and transparency of information about external quality assurance can facilitate their daily work with regards to recognition processes.
Participants will have the possibility to join the discussion and ask questions during the webinar. The webinar will be of interest to a range of stakeholders, including institutional staff involved in quality assurance, recognition and mobility; staff of quality assurance agencies and ENIC-NARICS; and students.
When: Thursday 27 June 2019, 14.00-15.00 CEST
For whom: registration is free and open to all interested stakeholders
How to: register here
---
Annual Report 2018
The year 2018 was an energising year for EQAR, comprising a mix of hard work, new challenges and celebrations. Apart from the daily work of managing the Register, EQAR's raison d'être, the DEQAR project (Database of External Quality Assurance Results) also kept us busy. EQAR's 10th anniversary was celebrated in style, not only at our Brussels offices, but also in Paris at the Opening Ceremony and Celebration Session on the eve of the Ministerial Conference on 23 April 2018.
Read all about it in our Annual Report 2018, which is now integrated into our website for easy access and reading.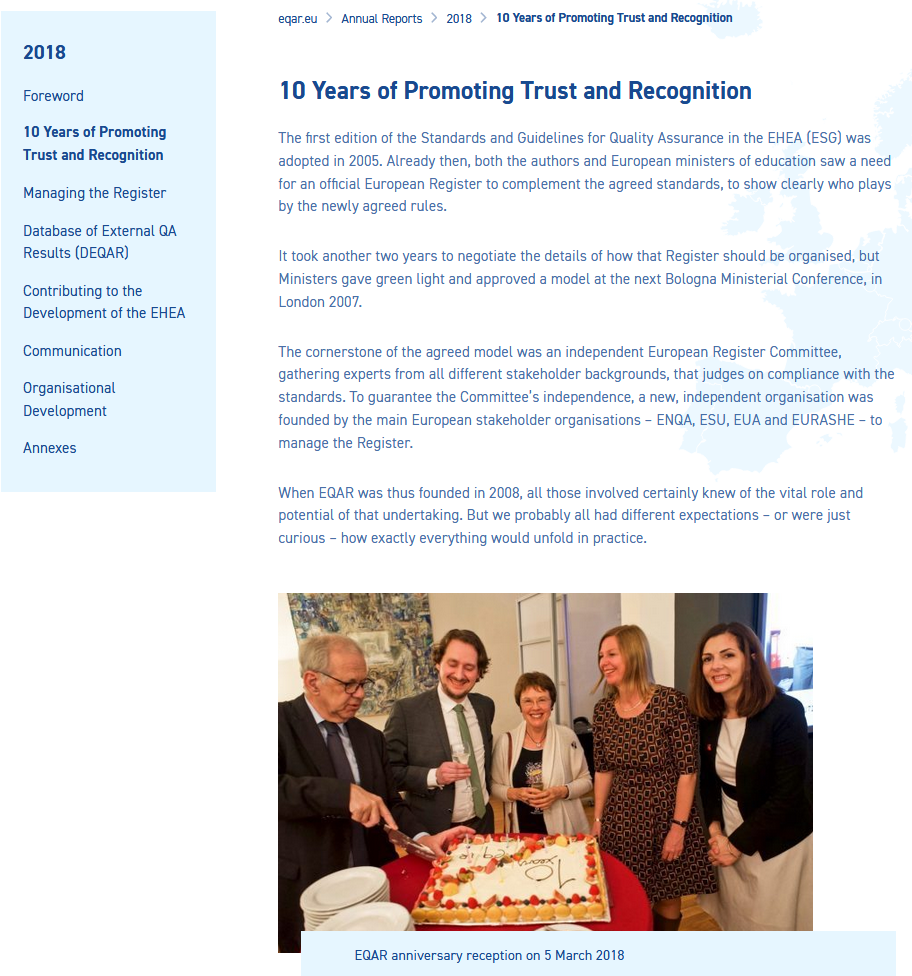 ---
DEQAR Final Conference: Call for Proposals
We invite scholars, practitioners, and students to submit research proposals that draw on DEQAR data. DEQAR is the database of higher education institutions and programmes that have been subject to external quality assurance in line with the ESG, by an EQAR-registered agency. In the framework of the DEQAR project, a conference will take place in Madrid on 7-8 October 2019. Selected authors will be invited to present their paper or poster contributions at that conference.
Deadline: 30 June 2019
How to submit you proposal
---
Download or embed DEQAR data

Download DEQAR data for use in your research or embed it into your own applications. DEQAR provides information on currently 9754 quality assurance reports and decisions on 1624 higher education institutions in 56 countries. This is accompanied by system-level information on quality assurance in all 48 European Higher Education Area (EHEA) countries and information on the currently 46 quality assurance agencies registered on EQAR.
Datadump
By just clicking one button, you can download a full dump of the data currently in DEQAR to use for analysis and research. The data (structured data on reports, institutions, agencies and countries) are provided in CSV format, which can easily be opened and manipulated using any spreadsheet software or data analysis suite.
Embed live data via the web API
Another method for accessing data from DEQAR is to use a live data feed from the Web API. The application programming interface (API) allows you to feed data directly into your local application or system; use the API as a back-end to your website or to feed data into your research or data analytics software.
---
Analysis of quality assurance activities
In order to enhance its overview on the scope of registered agencies' activities, EQAR has been collecting information on their external QA activities annually since 2014. The collected data reveal the volume of external QA activities within the scope of the ESG as well as trends and changes within higher education systems across the EHEA.
In 2018 the 46 EQAR-registered agencies carried out a total of 8902 external QA activities of which 91% represented programme level evaluations or accreditations, 8% reviews of a higher education institution and 0.3% represented joint proramme evaluations. Similar to previous years, the activities were carried out across 66 countries. Cross border activities covered 57 higher education systems, most of which were carried out within the EHEA member countries (29 higher education systems)
Main trends in EQA activities:
The data revealed a drop in the external QA activities at programme level compared to previous years.
External QA activities at institutional level increased by 18% compared to 2017.
Institutional external QA reached the highest share since 2016, pointing to a possible trend towards less programme-level reviews and more focus on the institutional level.
The volume of cross border reviews increased by 26% compared to the previous year while joint programmes reviews increase by 37%. The share of cross-border activity continues to vary considerably between agencies, see chart below.
Discover more about the reasons behind these shifts as well as other trends and statistics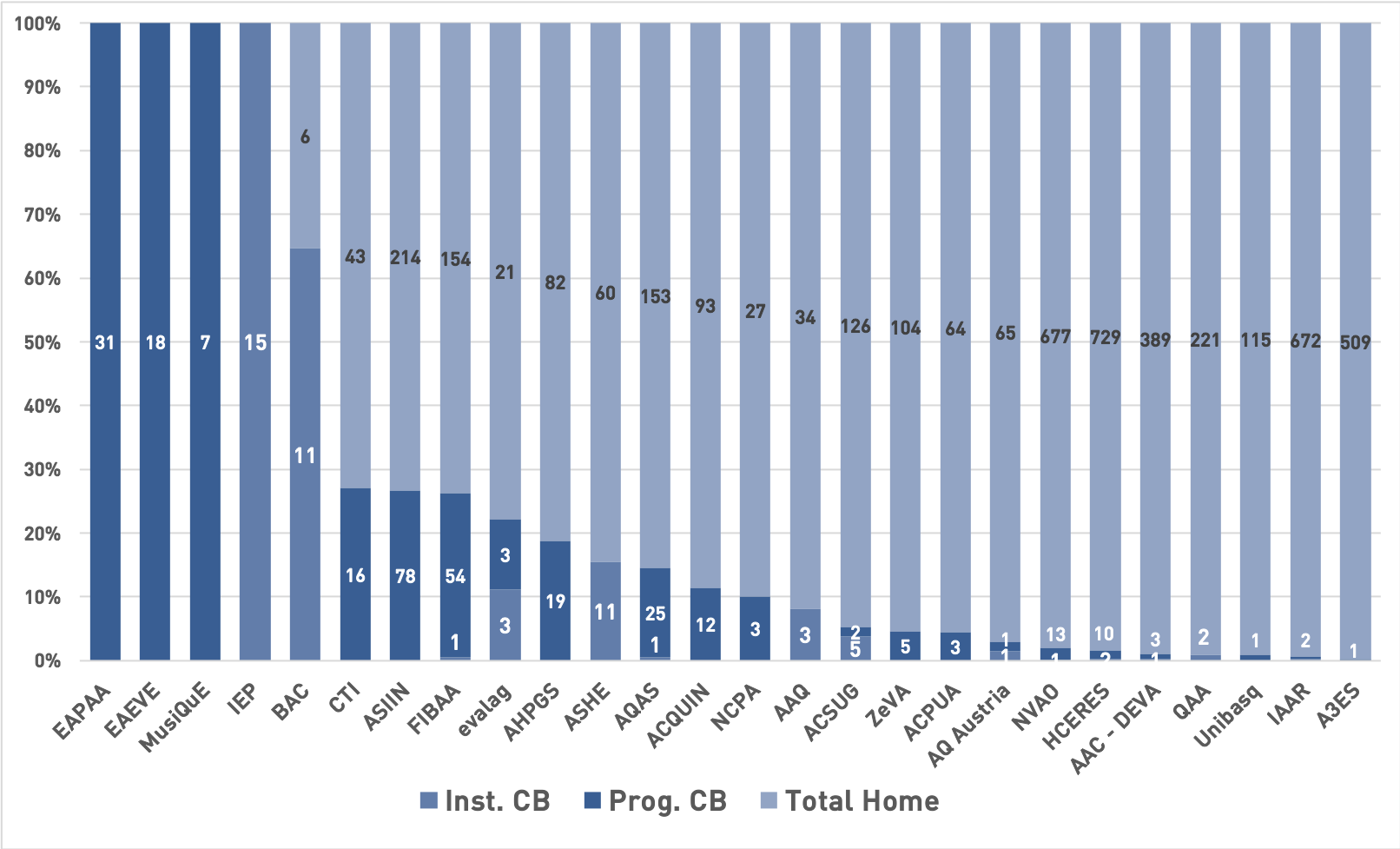 ---
Bologna Thematic Peer Group: Supporting the key commitment on quality assurance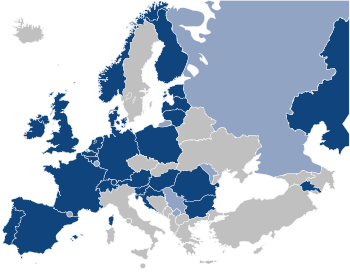 The Thematic Peer Group on Quality Assurance is one of the three peer groups within the Bologna Process (along with Recognition and Qualification Framework) established with the aim of fostering peer support among countries. Within the QA peer group, members share know-how on measures and activities that they have taken to align their different national quality assurance frameworks with the Standards and Guidelines for Quality Assurance in the European Higher Education Area (ESG).
Currently, 24 countries (see map, dark blue) fulfil the European Higher Education Area (EHEA) key commitment that external quality assurance of higher education is performed by agencies that comply with the ESG, demonstrated through registration on EQAR. In a few further countries (light blue) this applies only to part of the higher education system or only to some institutions.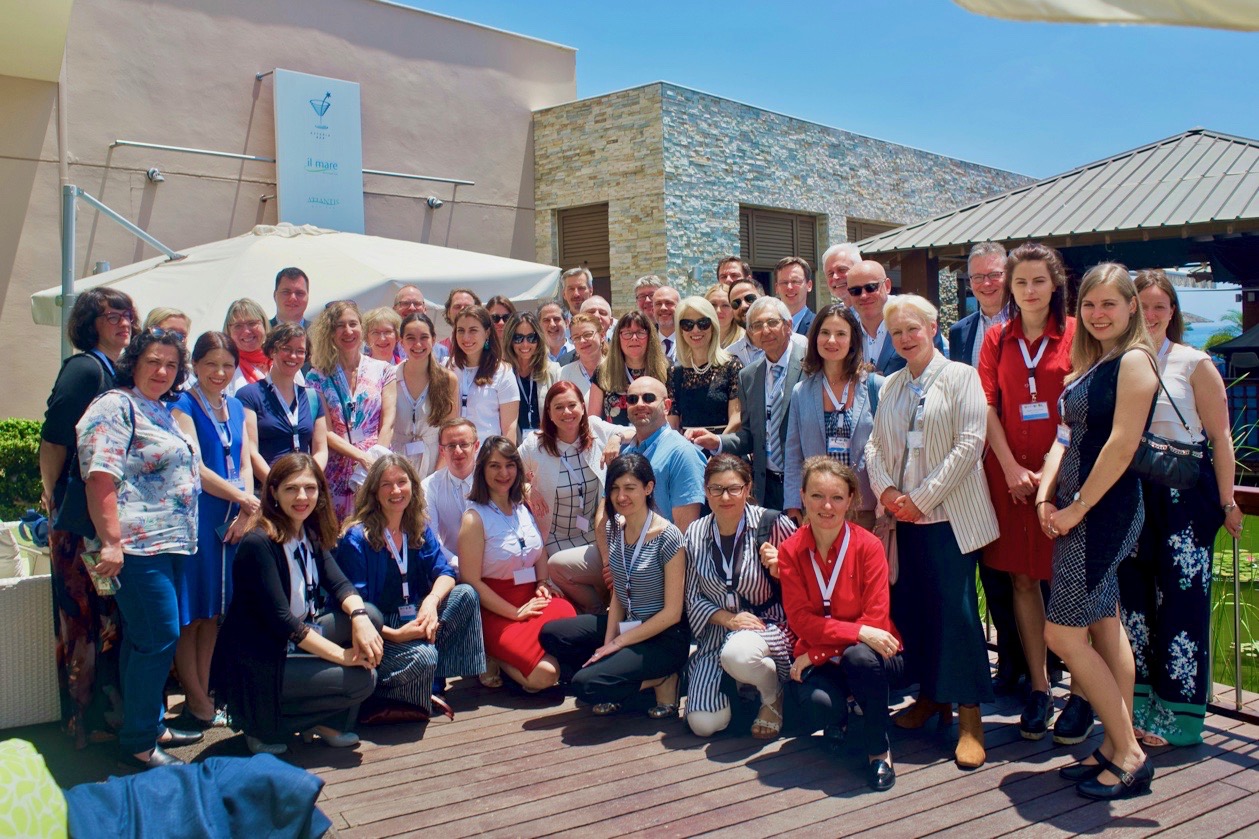 The Peer Group's two meetings allowed participating countries and organisations to discuss peer learning possibilities, action plans to support legislative framework and internal quality assurance arrangements in line with the ESG, to improve the engagement of stakeholders in quality assurance and to allow institutions to choose a suitable EQAR-registered QA agency for their mandatory evaluations (cross-border QA) and also to support the use of the European Approach to the QA of Joint Programmes.
A number of initiatives supported through the Key Action 3 Erasmus+ call have already kicked of. The projects aim to facilitate peer support among the partner countries of the group through staff mobility, to develop a European approach for comprehensive QA of European University Networks (EUniQ), or to support the engagement of stakeholders in internal and external quality assurance (ESQA).
More information on the EHEA website
---
Call for Tender: Infographics based on DEQAR
Adding to the existing functionality allowing to browse and search quality assurance reports in DEQAR we are preparing to publish a set of Interactive charts and infographics on quality assurance in the European Higher Education Area. The tool will include heat maps reflecting the scope and coverage of DEQAR data; charts revealing trends in external QA; and additional visualisations of higher education systems by QA framework.
We are currently seeking an external developer to realise our vision. If you know any developers that might be interested please share the specifications with them and invite them to contact us by 15 Jue 2019.
---