---
EQAR NEWSLETTER - OCTOBER 2021
News: Approved applications | Publication of Analysis of RC decisions and webinar | EQAR site visit | DEQAR update | Targeted Review webinar | Deep Dive into: Change Reports
---
Approved applications
The Register Committee, at their online meeting of 15 October, approved the following renewal applications: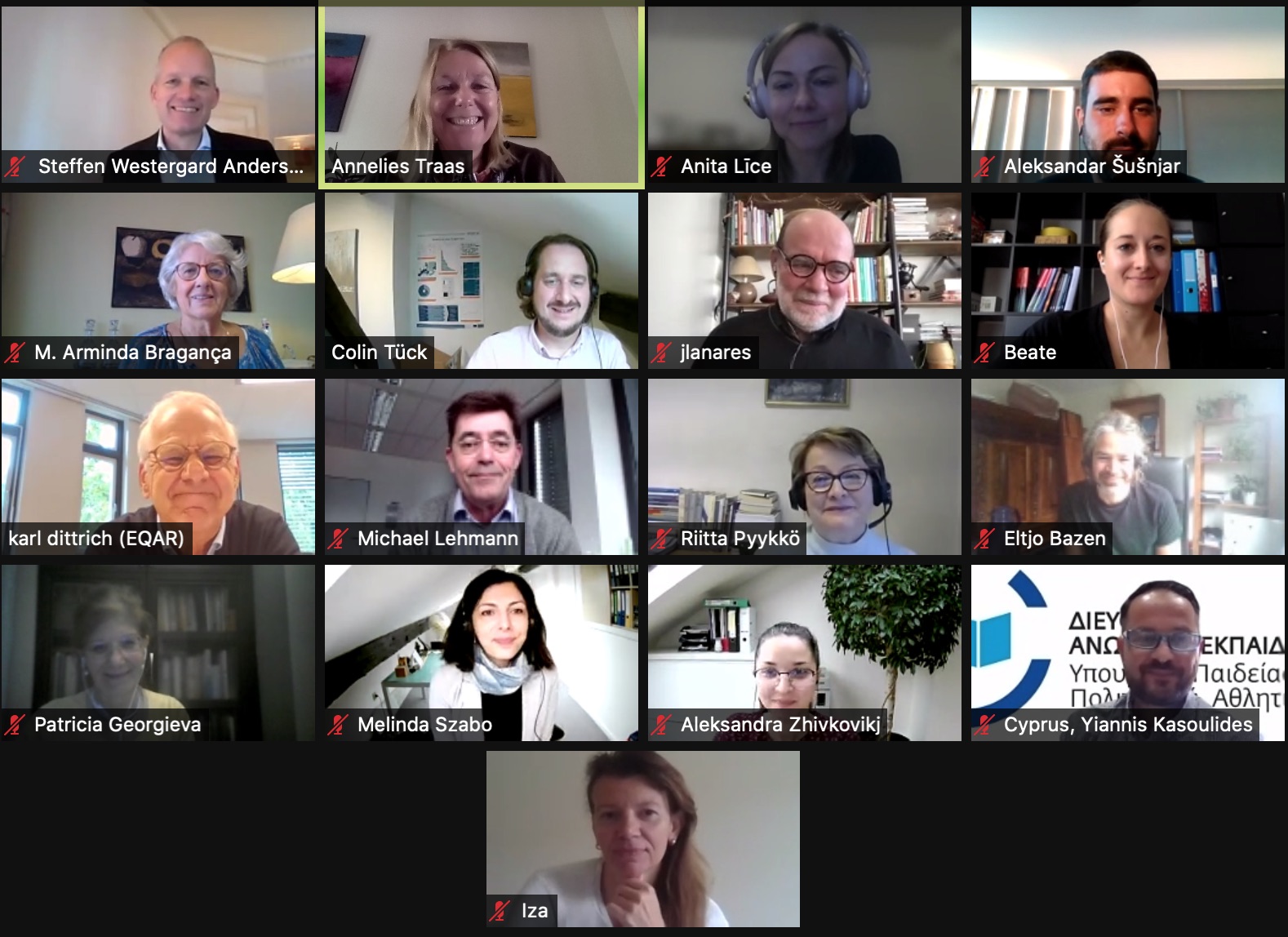 The Register Committee also took note of a number of Change Reports (more about this topic in our Deep Dive section at the end of this newsletter):
Check out the decisions and the Change Reports on our website
---
Publication of Analysis of Register Committee decisions and webinar
We are very pleased to present our report Analysis of Register Committee decisions, which was published earlier this month. The Register Committee (RC) makes decisions on ESG compliance of quality assurance agencies that want to be listed on the Register (currently 50 agencies). In the report, the work of the RC has been examined in detail. A sneak peek into the report tells us that between 2008-2021, the Register Committee:
reviewed 143 applications for inclusion and renewal of registration;
approved 118 applications.
A total of 14 applications were unsuccessful, while 11 were withdrawn. This brings us to an approval rate of 89%. Another takeaway from the report evolves around ESG compliance statistics. Did you know that 50% of the QAAs fails to comply with ESG 2.7 (Complaints and Appeals) and 40% with ESG 2.6 (Reporting)?
The report was the point of departure for our webinar "ESG Compliance: The Challenges & Lessons Learned from EQAR's Registration Process" which was held on 6 October. Experts discussed the challenges of implementation of the ESG, the typical pitfalls and lessons learned.
Check out our website to read the report and view the recording of the webinar on ESG compliance.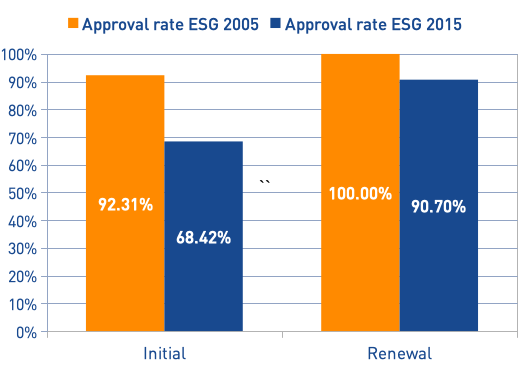 ---
EQAR site visit
The actual, in situ, site visit of EQAR's external evaluation took place from 16-18 September. Almost the entire international evaluation panel (six of the eight experts) came to Brussels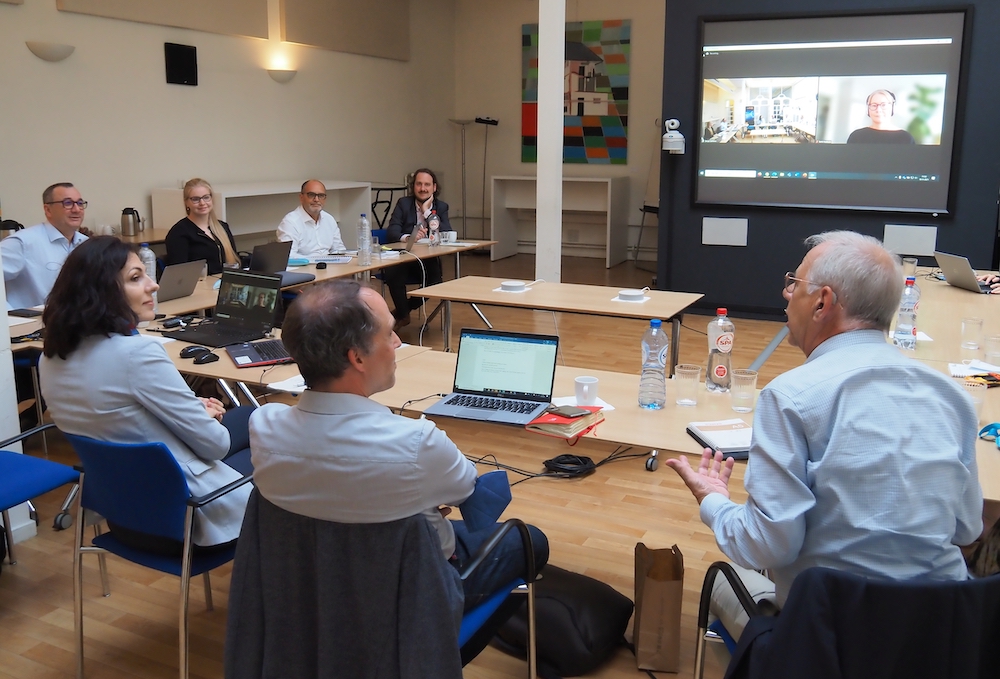 and interviewed EQAR staff, members, committee members, partners and stakeholders. The panel continued conducting interviews, albeit online, until last week. Their mission is to find out if EQAR's structure and activities are fit for purpose and effective in light of its mission and objectives.
This brings the external evaluation almost to an end, a process which, contrary to the adjective "external", also includes a healthy dose of introspection by means of a self-evaluation. Started in 2020, the following exercises were undertaken/initiated:
Appoint coordinator (by EQAR) -

December 2020

Self-Evaluation Report (by EQAR) -

April 2021

Appointment expert panel (by coordinator) -

June 2021

Site visit (by expert panel) -

September 2021

External Evaluation Report (by panel) –

End October 2021
We look forward to see the panel's findings and recommendations in the external evaluation report, which will be published within the next week. The evaluation is coordinated by the Central European University's Yehuda Elkana Center for Higher Education (CEU YECHE).  More about the evaluation, the panel, the Self-Evaluation Report and previous evaluations here.
---
DEQAR update
As the DEQAR CONNECT project has entered its final phase, we strive to further advance our project aims of enhancing connectivity and expanding coverage.
Interface for European Digital Credentials for Learning
The EU launched yesterday European Digital Credentials for Learning, a new standard for issuing education credentials (e.g. diplomas, transcripts of records, etc.) in a tamper-proof digital format, with authentication and verification checks built in. The Europass Qualifications Dataset Register (QDR) underpins and feeds the Accreditation Database against which European Digital Credentials are verified.
Over the last month, EQAR has worked with the European Commission to ensure that quality assurance data from DEQAR can be loaded automatically into the QDR and thus the Accreditation Database. The interface facilitates the issuance of digital credentials for all higher education institutions whose external quality assurance can be found in DEQAR: their credentials can be cleared as accredited without the need for additional data export or software development at national level.
The interface needs to be activated on a per-country basis. Read more here, including a step-by-step guide on the DEQAR-QDR link. If your country or institution is interested in making use of the interface or have further questions, please feel free to contact us.
European Blockchain Service Infrastructure (EBSI)
The EU is further piloting a technical architecture for digitally-issued education diplomas as part of the European Blockchain Service Infrastructure (EBSI). The EBSI Diplomas Use Case addresses the same needs as the European Digital Credentials for Learning, based on a different underlying technical platform. Both initiatives are compatible and based on the same higher-level data models and standards.
EQAR is also exploring the use of DEQAR data on external quality assurance and accreditation as part of the EBSI Early Adopters Programme, in close dialogue with the EBSI architects and the convenors of the Diplomas Use Case. In EBSI, quality assurance is represented as a digitally-signed verifiable credential (VC). Using an open-source software solution developed with EU support, EQAR is currently building a system to automatically issue VCs based on the data available in DEQAR.
If you would like to get involved or know more, please contact Aleksandra Zhivkovikj or Colin Tück from the EQAR team.
DEQAR Masterclass
A special webinar dedicated to all EQAR registered agencies was organised on 24 September; the DEQAR Masterclass. The aim was for agencies to gain insight into recent changes and envisaged future changes in DEQAR, to learn about data models and requirements and to share good practices as well as common dilemmas and obstacles.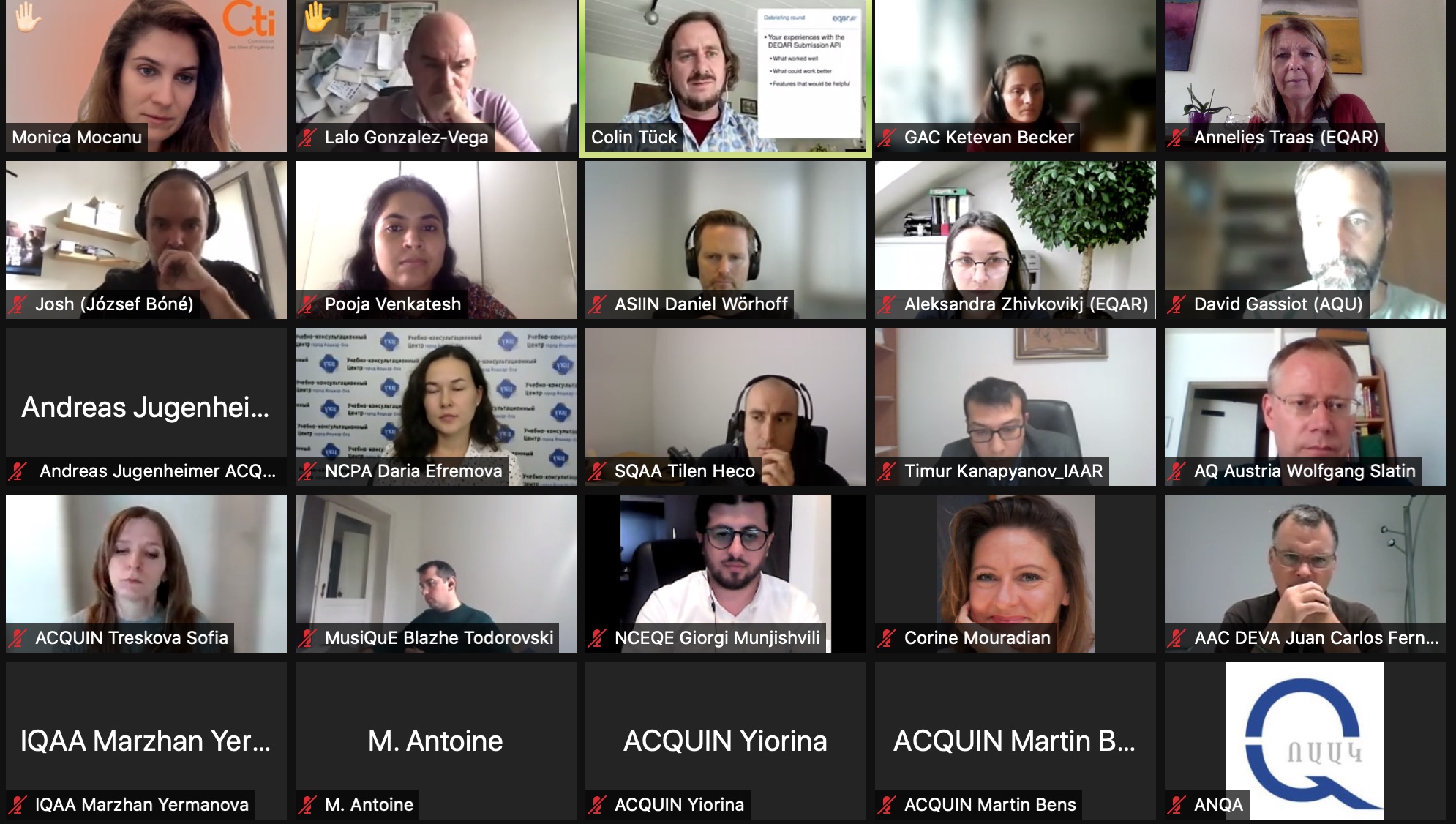 | Latest DEQAR statistics | November 2020 | October 2021 |
| --- | --- | --- |
| Reports in DEQAR | 52 687 | 68 890 |
| Participating EQAR-registered agencies | 30 | 42 |
| Coverage (EHEA higher education systems with QA reports for at least 50% of the HEIs) | 18 | 24 |
---
Targeted Review webinar
A webinar on Targeted Reviews, jointly organised by EQAR and ENQA, was held on 23 September, attended by representatives of six agencies. The event was open only to those (eligible) EQAR-registered agencies wishing to renew their registration with an expected site visit in 2022 (or very early 2023), in order to learn more about the targeted review process.  Find out more about the Targeted Review and whether your agency is eligible on our website.
Apart from presentations by both EQAR and ENQA, there was ample time for questions. A number of questions evolved around the substantive changes that agencies have to report in order to be eligible for a targeted review. Find out all about the whats and whys of the Change Reports in our Deep Dive section featured below.
---
Deep Dive into: Change Reports
This section in our newsletter dives into different topics or terminology related to EQAR, to explain them in a clear and unequivocal way. Today's subject of our Deep Dive is Change Reports.
What?
In a Change Report, registered agencies notify EQAR about any type of change that may affect the registered agency's substantial compliance with the ESG. This may include, for example:  
changes to the legal form or status of the organisation;
mergers with or absorption of other agencies or organisations;
changes in the agency's organisational structure (e.g. new statutory bodies/committees, or changes to their roles or composition);
start of new external quality assurance of activities (e.g. launching a new type of accreditation or certification);
changes to existing quality assurance activities (e.g. changes to their processes, criteria or methodologies);
activities being discontinued.
Why?
It is important that EQAR becomes aware of situations where an agency's current practice differs substantially from the situation when it was reviewed against the ESG and admitted to the Register.
When and how?
The Change Report is a simple online form that you can find on our website (see below a screenshot of part of the form). In general, changes should be reported as soon as they have been formally adopted/approved. For new external QA activities, a Change Report should be submitted immediately after the design phase and before implementation. See our comprehensive table of types of changes and when to report them.
And then?
The Register Committee will normally merely take note of substantive changes and update information on the Register and/or in DEQAR, if necessary. Only in cases of serious concerns whether a registered agency continues to comply substantially with the Standards and Guidelines for QA in the EHEA (ESG) will the Register Committee consider further action such as reducing the remaining period of inclusion on the Register. Before this, the agency may provide additional representation.
What's in it for the agency?
Agencies that report substantive changes (e.g. new activities), will have up-to-date information on the Register and in DEQAR.
Agencies that renewed their registration successfully at least once previously may opt to apply for a Targeted Review. However, registered agencies are only eligible for a targeted review if all substantive changes that occurred since their last renewal of registration have been reported.
This is what (part of) the online Change Report form looks like: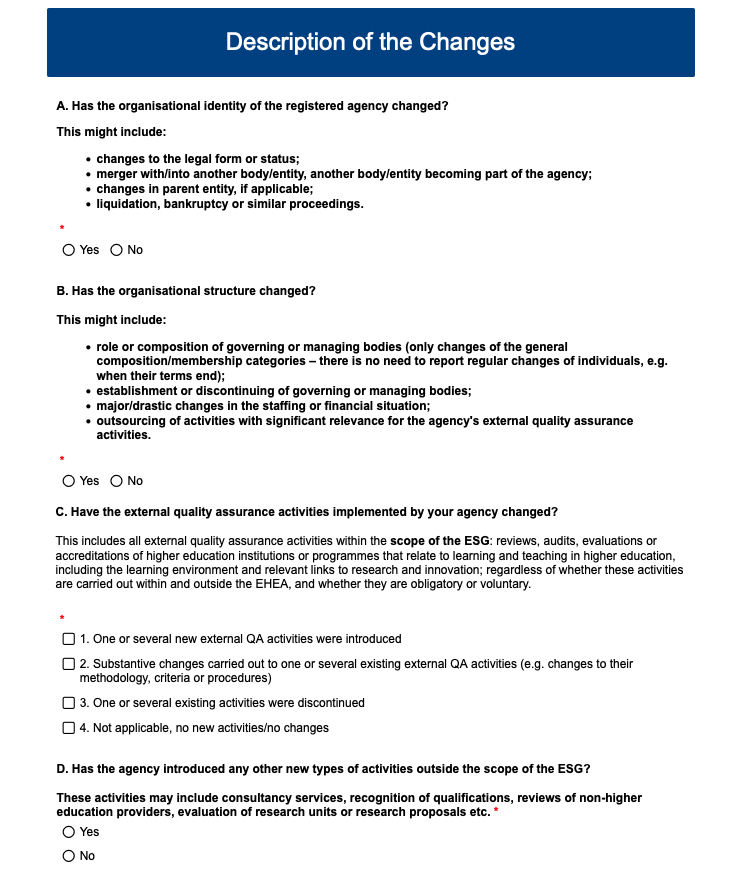 ---