Newsletter – October 2013
News: Three Agencies Admitted to the Register | Project: Recognising International Quality Assurance Activity (RIQAA) | Register Committee Practices and Interpretations | Survey: Information on Registered Agencies | Upcoming event: Peer-Learning Seminar on the Role of National Qualifications Frameworks, Quality Assurance and Recognition | Past events: EQAR Members' Dialogue 2013 | Seminar on Austria's New Quality Assurance System
Three Agencies Admitted to the Register
At their last meeting, held on 18 and 19 October, the Register Committee approved the applications of the following quality assurance agencies for inclusion on the Register:
The Register now features 32 agencies that have demonstrated their substantial compliance with the European Standards and Guidelines for Quality Assurance (ESG) through an independent external review.
» Register of quality assurance agencies
Recognising International Quality Assurance Activity (RIQAA Project)

With the support of the Lifelong Learning Programme of the EU, EQAR is implementing a project on cross-border recognition of quality assurance agencies. To kick off the project, the Advisory Group of the project met in Gent on 18 October 2013 to discuss the project's upcoming activities.
The project includes an in-depth analysis of both legal provisions in EHEA countries recognising EQAR-registered QA agencies and their decisions, and the use made of such provisions by higher education institutions/programmes.
» More about the project and intermediate results
The Role of National Qualifications Frameworks and Quality Assurance in Recognition
11 December 2013, Trakošćan (Croatia)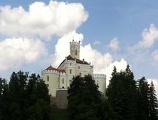 The Ministry of Science, Education and Sports of the Republic of Croatia and EQAR are jointly organising a seminar on the role of national qualifications frameworks and quality assurance in recognition. The seminar is an activity under the peer learning and peer review initiative proposed within the Bologna Follow-Up Group work programme.
Referring to some of the Bucharest Communiqué priorities and building on the conclusions from the QA Seminar held in July 2013 in Biograd na Moru, Croatia, this Seminar will address two specific issues:
ways of establishing an efficient framework for enabling the work of foreign EQAR-registered agencies;
external quality assurance as a reference point for recognition, together with national qualifications frameworks referenced to the EQF and QF-EHEA.
Based on case studies and practical examples, participants will be invited to engage in in-depth discussions on how to build on existing experiences and steps to be taken in their systems.
» Invitation letter
» Registration
Practices and Interpretations by the Register Committee
Since the beginning of this year, the Register Committee's full decisions on applications for inclusion on the Register and on registered agencies have been published. In addition, the Register Committee now published a document summarising its practices and interpretations made in using the ESG as criteria for inclusion on the Register. The document aims to:
increase the transparency of the Register Committee's decision-making practice;
help demonstrate consistency in the Committee's practices, interpretations and decisions on applications;
aid external review panels in understanding how the Committee has interpreted the ESG and used external review reports;
facilitate the understanding of the Committee's public decisions.
» Practices and Interpretations by the Register Committee
Survey: Information on Registered Quality Assurance Agencies
As one activity as part of its Strategic Plan 2013-2017 EQAR is currently reviewing the information made available on registered quality assurance agencies. In order to collect and analyse suggestions for improving the provision of information, a stakeholder consultation in form of an online survey has been launched as a first step.
We would be thankful if you took a moment of your time to complete the survey. It will be open until 30 November 2013.
EQAR Members' Dialogue 2013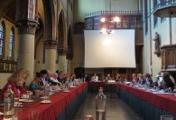 Around 50 participants of EQAR governmental members, stakeholder organisations and committees gathered on 17 and 18 October for the 3rd EQAR Members' Dialogue, hosted by the Flemish Department of Education and Training in Gent (Belgium). Discussions focussed around EQAR's strategic priorities – Trust and Recognition of Registered Agencies, and Transparency and Information –, and included various keynote presentations, case-study examples and a Knowledge Café session on national legislative frameworks for recognition of cross-border external quality assurance.
Seminar on Austria's New Quality Assurance System
On 19 September 2013, the Austrian Federal Ministry of Science and Research, in cooperation with EQAR, organised a morning conference on Austria's new legal framework for external quality assurance and first experiences made by the University of Graz. Austria undertook a major legal reform of its quality assurance sector by merging several QA institutions and giving universities the possibility to choose any EQAR-registered QA agency for their regular audit.